We're a family-run dog daycare and home boarding business located on the outskirts of Eaglesham, with close links to the M74 & M77.
Our facilities are designed with your dogs comfort, enjoyment and safety in mind. Our spacious indoor and outdoor play areas provide ample space for dogs to interact, socialise and make new furry friends.
We offer a range of activities to keep your dog entertained and mentally stimulated throughout the day. The emphasis is on exercise and playtime with plenty of games and stimulation for your fur baby in a safe and secure haven.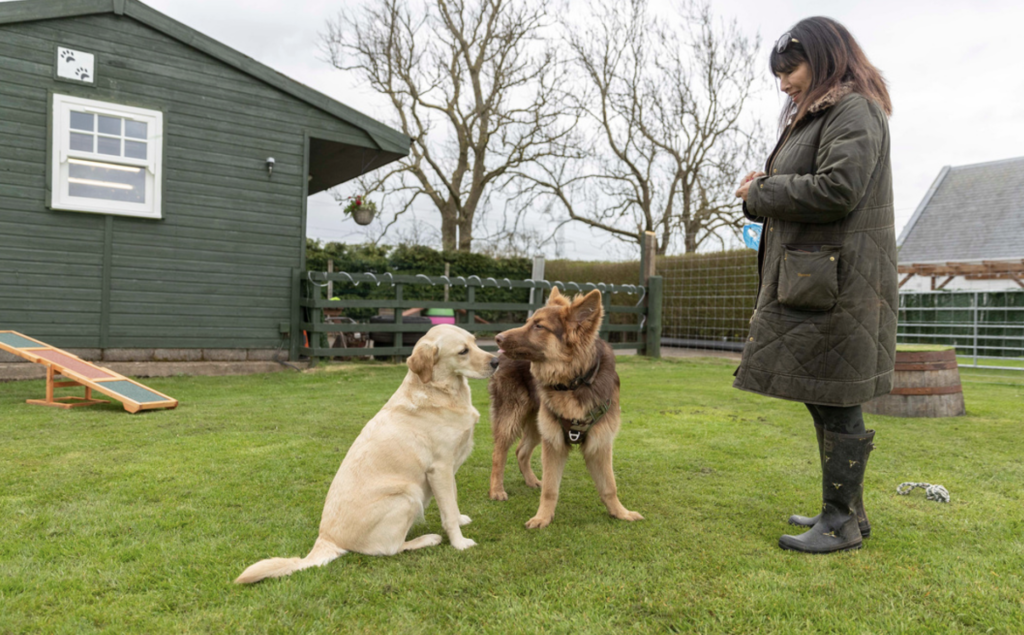 Our area called Pawz is where your fur baby can relax and chill, listen to music or watch Netflix.
Whether your fur baby is full of energy and likes to run around and play, or a more senior dog who prefers a more laid-back life, we have activities to suit their and your needs. The Playbarn is for indoor games on rainy days, where outdoor areas are for fun and agility.
---
Meet & Greet
Prior to any confirmed bookings we request you make an appointment to meet us. This will give us both the opportunity of assess if your dog is suitable for day care and also allows you to see our facilities.
On your visit could you please bring along your dogs most recent vaccination records provided by your vet. After your visit and you wish to proceed and enroll your fury baby you must complete our Registration and Concent forms.
At Openhearth Unleashed, we put a lot of care into introducing dogs to each other. This is sometimes a gradual process, and depending on your dog's reaction, they may not meet all dogs on their first visit.
---
Prices
Single Day Rate
Discount for 2 dogs from same household

Pawfect if you only use daycare once or twice a week

Monthly Packages Available if purchased at the same time
3 or more days a week
Discount for 2 dogs from same household

Pawfect if your dog attends multiple times a week!

Monthly Packages Available if purchased at the same time
---
You can buy pre-paid bookings individually or in Packages.
Please note, Packages are only available if purchased at the same time.
---
Frequently asked questions
How many dogs can we take?

Daycare: up to six dogs.

Home boarding: one or two dogs from the same family
Our facilities

Our securely fenced area is situated on our own land, within the confines of our own grounds.
Requirements

Your dog requires to be fully vaccinated and treated for kennel cough; treated for worms and also fleas. Dogs over one year should be castrated or spayed.
Suitability

Due to the nature of Doggy Daycare should your dog be required to wear a muzzle, we are sorry we are unable to facilitate this. All dogs must be able to interact with other dogs.
Drop off / Pick Up

Drop off & Pick Up Service is not currently available.
---
Instagram Gallery
Our Opening Hours
Monday to Friday
07:30 to 18:00 hours
(Early drop off and late pickup can be arranged directly)
Contact us
Email: bark@openhearth.scot or complete our online form.